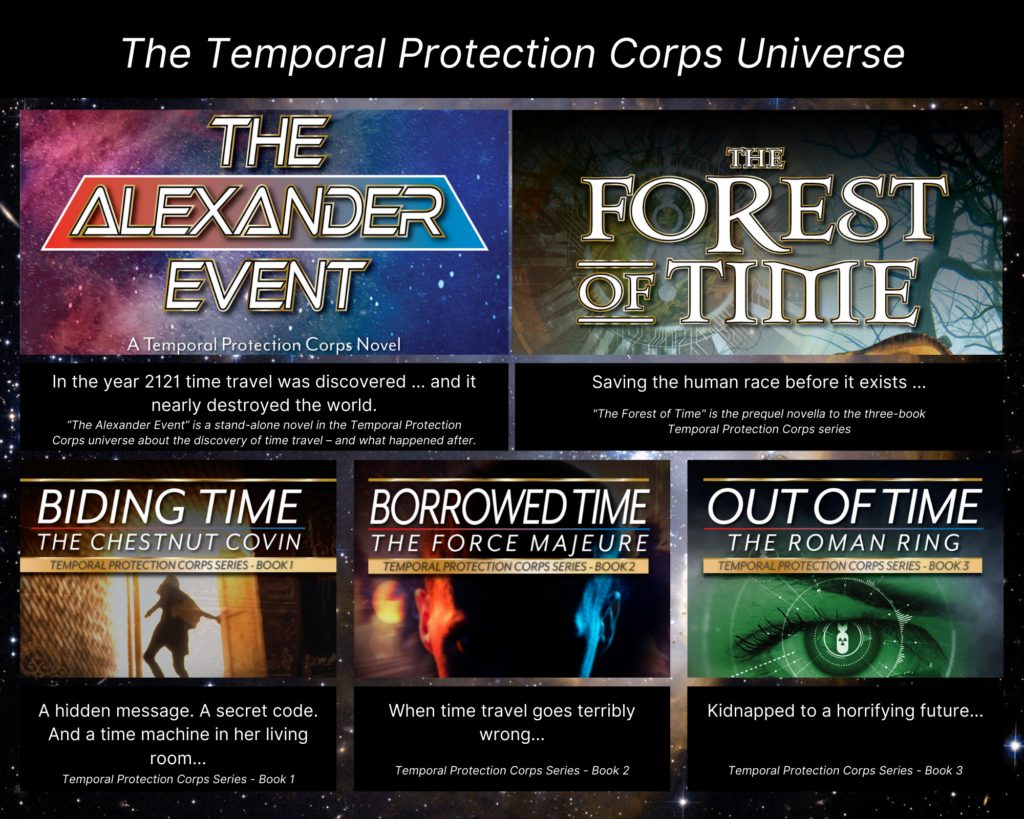 As as Amazon Associate Now & Later Publishing earns fees from qualifying purchases made via links on this page
Temporal Protection Corps Series Book One
By E.W. Barnes
A hidden message.
A secret code.
And a time machine in her living room.
After her grandparents die on the same day, Sharon Gorse discovers her grandmother was a time traveler—and then her world falls apart.
Stalked by a mysterious man and reluctantly partnered with a Temporal Protection Corps Agent from the future, Sharon must fix the past to save the present, and stop her own murder by a shadowy conspiracy … the Chestnut Covin.
You'll love the twists and turns in this thrilling race through time!
Temporal Protection Corps Series Book Two
By E.W. Barnes
When time travel goes terribly wrong…
Returning from a routine time travel assignment, agent-in-training Sharon Gorse and her friends find themselves alone in an alien world.
Their one chance to put things right is to commit a crime — and failure risks more than living in a terrifying timeline.
Can they succeed in restoring the future before Temporal Protection Corps agents track them down in the past?
Or will betrayal from within destroy them first?
You'll love this fast-paced time-travel mystery!
Temporal Protection Corps Series Book Three
By E.W. Barnes
Kidnapped to a horrifying future…
Only hours after being sworn-in as a Temporal Protection Corps Agent, Sharon finds herself in a nightmare world.
Her kidnapper-turned-guide is dangerously delusional, refusing to tell her anything except that she is the key to preventing an apocalypse.
There's only one chance to save the world – Sharon must make the most terrible decision imaginable.
You'll love this parallel timeline, parallel world page-turner!
By E.W. Barnes
In the year 2121 time travel was discovered … and it nearly destroyed the world.
Andre is an astrophysicist working to create the world's first artificial wormhole—for the acclaim and for his name to go down in history. On the eve of his triumph, an unexpected reaction throws him into the past, opening the door to time travel.
But on his second trip into the past, his life – and the timeline – are changed forever, and he learns the painful lesson that there are things more important than fame.
And as Earth is invaded by a relentless enemy from a parallel universe, his greatest foe, one who can destroy everything he loves and has worked for, is a woman from 200 years in the past who he has never met …
The mission: Find a scientist missing in the Cretaceous period 125 million years in the past.
But there are questions. Was his disappearance an accident? Or intentional?
For TPC Agent Rose Sprucewood, the questions aren't important. What matters is efficiently completing her last official mission by-the-book before she retires from the Temporal Protection Corps.
But it's harder to follow the rules when trapped in the past.
And the hazards of prehistoric earth aren't the only risks. When Rose and fellow agent Richard Kern discover evidence of a conspiracy, they learn the most dangerous predator of all is their own species.